by Jody Key – Managing Editor
Many young girls receive doll's houses to play with. This gift is seen as a fitting way to help them prepare for their futures through the guise of play. In the late 1800s, women were expected to marry and carry on the traditional duties of wife and mother while the husband provided for the family working outside the home. In 1879 Heinrich Ibsin wrote a 3 act play exploring the concept of societal roles. In his tale, the main character Nora Helmer, does what she thinks is right in secret to aid her ailing husband, but her actions turn into consequences that result in her husband's animosity toward her. She finds her marriage unbearable and the play concludes with her walking out the door.
Fast-forward 148 years to 2017 to "A Doll's House – Part 2". Playwright Lucas Hnath's award-winning Broadway debut imagines what became of Nora. We find Nora returning home 15 years later to seek a divorce from Torvald, her husband. She assumed he had filed but finds they are still married and seeks to rectify the situation. She finds herself chastised by the housekeeper, Anne Marie and also her estranged daughter, Emmy when she asks for their help. Fresh off the Broadway stage, Aurora Theatre in conjunction with Actor's Express brings this play to the Atlanta area.
Nora has become a successful author who writes enlightened works about marriage as an archaic and oppressive notion. Her writings inspire unhappy wives to leave their husbands. She states to Anne Marie that she imagines in 20 or 30 years people will do away with marriage altogether–a radical notion for the year 1894.
Her ideas, while radical for her time period, are reflected in the notion of marriage in the 21st century. Today roughly 50% of marriages end in divorce, and marriage looks radically different than it did in the 1800s. Nora's futuristic picture of marriage reflects more succinctly the way marriage is viewed today. This one-act performance serves as an argumentative essay about the traditional view of marriage and proposes its fallacies, with Nora's daughter, Emmy, presenting her rebuttal in defense of traditional values. This is an insightful intellectual study of the human condition, and the takeaway may vary and inspire some interesting intellectual debate.
Aurora has done a praiseworthy job of presenting this play from a technical aspect. While the costumes and structure of the set are period correct, the furnishings consist of retro 1960's style chairs and a credenza. This is a nice touch alluding to the women's movement which began in the 1960s. The stage is adorned with LED tape, a relatively new lighting technique which frames the scenes in 21st-century technology. In addition, the modern transition music and projections hint the modern age in each scene. These subtle touches offer silent commentary and director Freddie Ahsley and his crew are to be applauded for the visual aspects of the production.
As so happens in live theater, a cast member may fall ill, and the show must go on. For the opening night performance, Tess Malis Kinkaid, the show's leading lady fell sick with laryngitis. The part of Emma was portrayed by understudy Caitlyn Joesphine Hargraves, who delivered a commendable performance as the resolute feminist protagonist.
Rob Cleveland as the surprised, somewhat bitter, and yet still loving Torvald depicted the conflicted emotions of a man who loved his wife, and yet feels like an unfortunate victim of circumstance where nothing he does seems to be good enough for her. Cleveland brings humanity to Torvald which allows the audience to sympathize with him while at the same time see how his notions of what became of their marriage would be stifling to Nora.
Shelli Delgado delivers a laudable performance as Nora's passive-aggressive daughter, Emmy. Delgado's range as an actress is showcased as she depicts emotions ranging from forced kindness, anger, and finally grief for a mother she never knew, A graduate of Aurora's AppCo, it was nice to see her at home on the Aurora stage once again.
A Key-noteworthy performance goes out to Deadra Moore as housekeeper Anne Marie, who provided continuity and comic relief to this serious subject. Moore's representation of a person of service who raised both Nora and her children presents another layer to the situation by presenting the working-class point of view.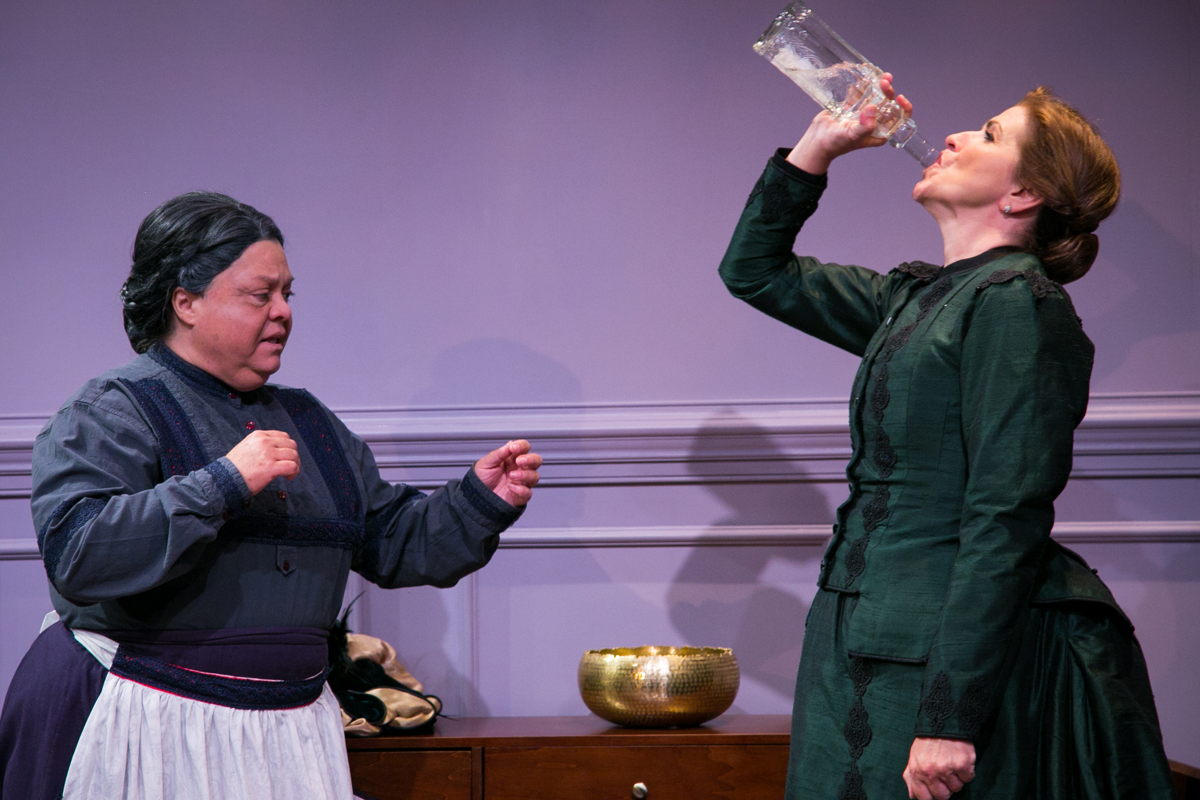 Once again, Aurora has done an excellent job of bringing a recent Broadway production to the Atlanta area. Speakeysie would like to congratulate them on their green light for expansion and we look forward to the future as they continue to provide quality artistic experiences to the greater Atlanta area.
Also, special thanks to Actor's Express for co-producing "A Doll's House – Part 2". Speakeysie is excited about our new partnership.
"A Doll's House – Part 2" runs at the Aurora Theatre from January 10th – February 10th. For tickets, visit https://www.auroratheatre.com/ or https://www.actors-express.com.