By Jody Key – Managing Editor — Photo Credit Casey Gardner
Imagine a life devoid of art and the emotions it invokes. If you're reading this review, that might be difficult to fathom, as the demographics of Speakeysie readers are presumably art appreciators–but just imagine, for example, that you went to work in the coal mines at ten years old spending an average of ten hours a day underground. Would you have time for artistic endeavors? This is the image given to us at the start of The Pitmen Painters, an offering by Theatrical Outfit which opens this weekend.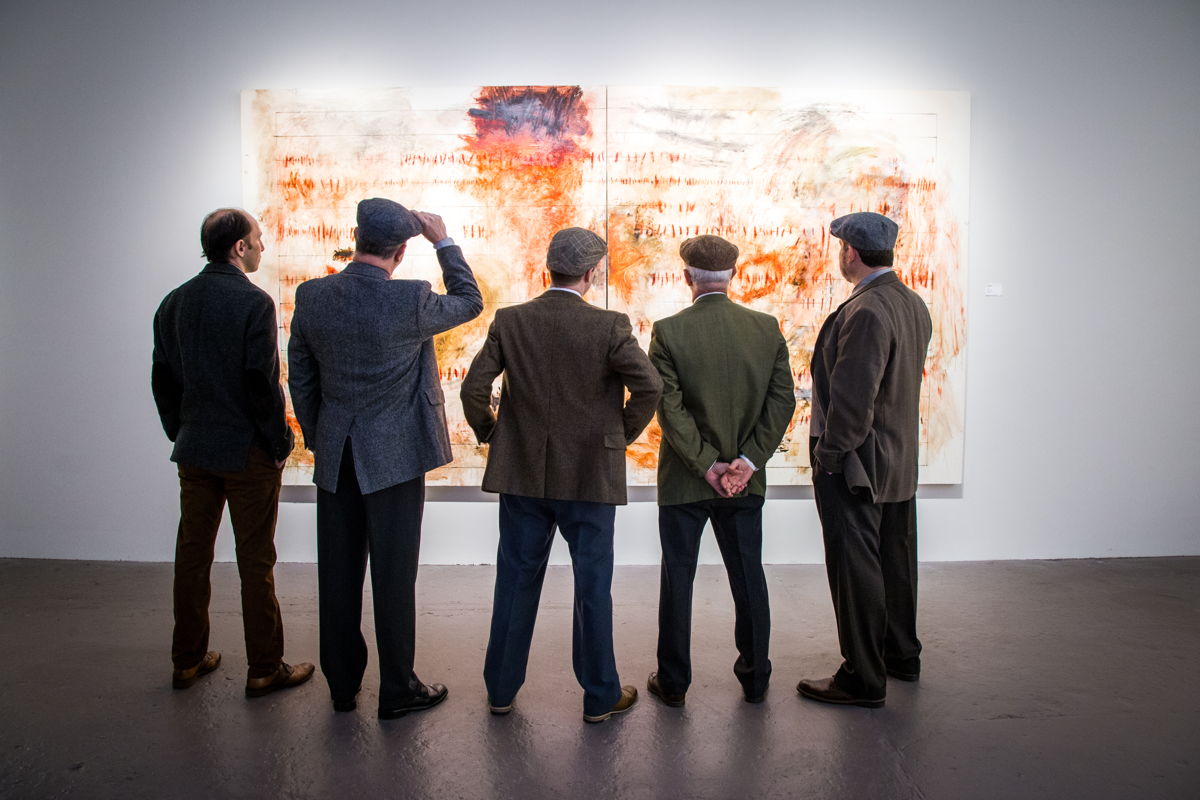 The Pitmen Painters, a work by Lee Hall, is based on the true story of the formation of the Ashington Group, a small society of painters who met regularly between 1934 and 1984 and consisted primarily of coal miners. Even though these men had no artistic training, their work was acclaimed in the British art world in the 1930s and 1940s. Their interest in art began serendipitously. In 1929 the WEA (Worker's Education Association) began to provide classes for adults. Fast forward to 1934 where the workers had hoped for an economics class; however, the university instead sendt over Robert Lyon to teach art appreciation. The miners became dissatisfied with the course, and Lyon challenged them to paint and interpret each other's works. What followed was an effort by Lyon to showcase the group's art. The miners soon found themselves rubbing elbows with patrons of the art community, showing their work in prominent galleries, while still returning to the coal mines daily to do their jobs.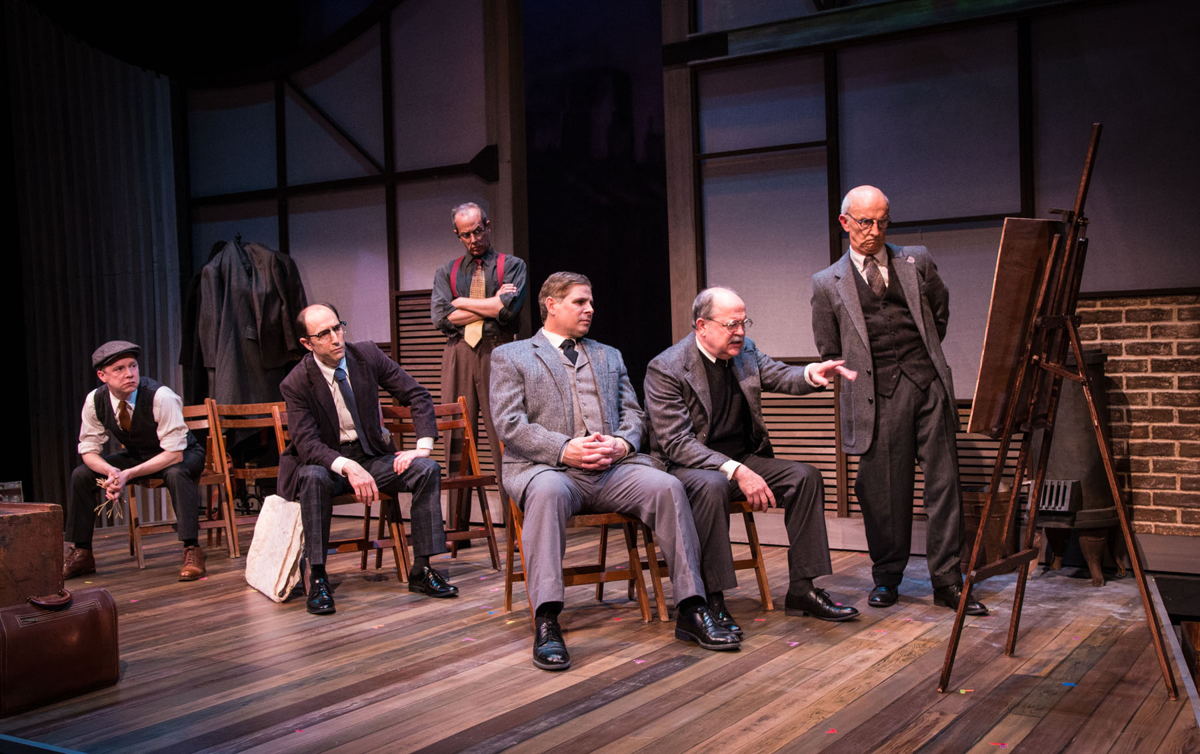 What seems like a nice story of the extraordinary coming out of the ordinary only scratches the surface. The deeper meanings of The Pitmen Painters are as vast and far-reaching under the surface as the coal mines themselves. This piece is a conversation starter with several themes; capitalism vs. socialism; class divisions in society; how art touches the individual; and collectivism of like-minded people– just to name a few.
This story has many lighthearted, laughable lines sprinkled among the more sophisticated subject matter. It focuses on the relationship of the instructor, Robert Lyon (Sam R. Ross), and five of the painters: miners Oliver Kilbourn (Brian Kurlaner) and Jimmy Floyd (Richard Garner); union organizer George Brown (Allan Edwards) and his unemployed nephew known as Young Lad (Clifton Guterman) ; dentist Harry Wilson (Andrew Benator). The group is introduced to Susan Parks (Caitlyn Joesphine Hargraves), a model for a nude study (which makes for a very humorous scene) and an art patron Helen Sutherland (Tess Malis Kincaid). There is also a scene with one of Helen's proteges, Ben Nicholson (Clifton Guterman) which emphasizes both disparities in class and the different ways people are constrained by their circumstances.
From a technical standpoint, the show is very well executed. Director Adam Koplan and his artistic team have done an honorable job of capturing the climate of Great Britain during the 1930s and 40s. The scene changes are especially telling as the cast moves around every-day objects such as chairs, picture frames, and crates in a fashion that emulates working in the mines. This serves as a reminder that while the story of their artistic endeavors is the focal point, each day these men toil in the dark mines. Projections are used creatively to add history, exposition, and continuity to the story as well as transform the static set into various settings. Overall, the work of each technical member culminates into an authentic depiction of the setting.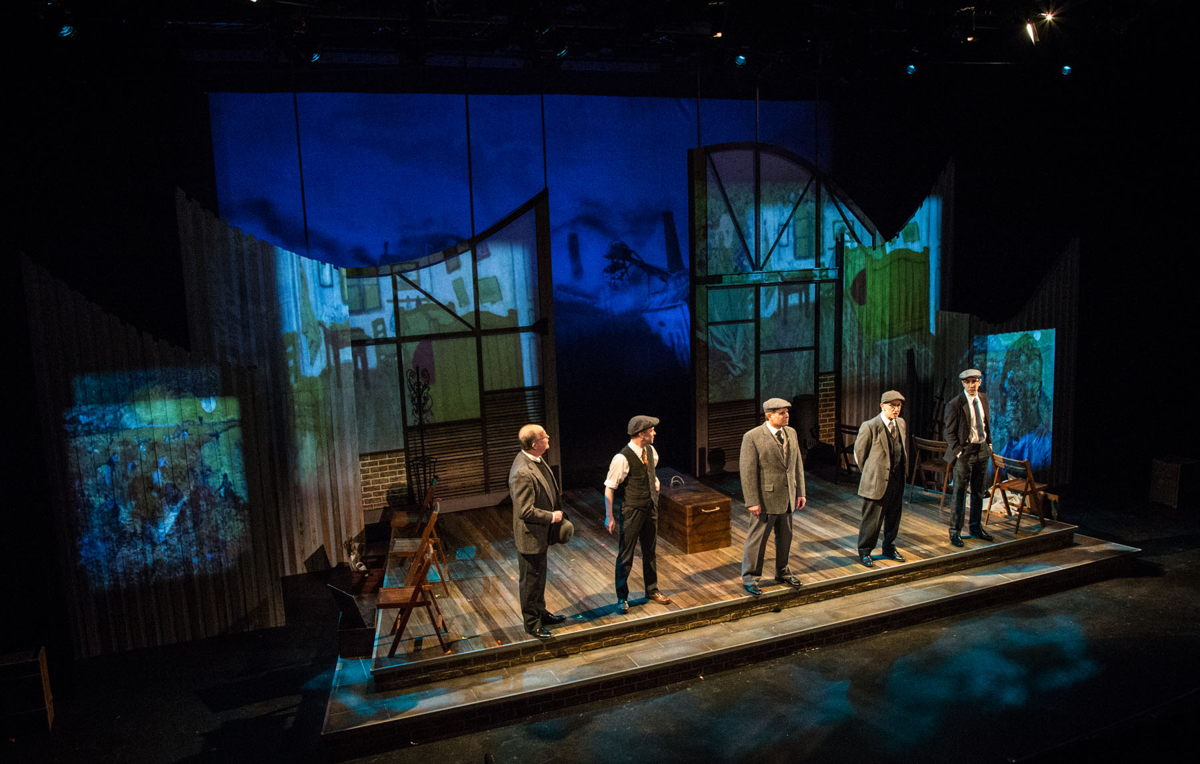 This small ensemble works together beautifully to tell a story about the working class vs upper-crust society. Brian Kurlander does an exceptional job as Oliver, who serves as a focal point of the group. Richard Garner as Jimmy delivers humorous lines with perfect comedic timing as well as exposing his soul in a monologue about start in the mine as a young boy. Andrew Benator delivers a solid performance as Harry, the dental mechanic and professed socialist of the group. Allan Edwards as George, the union leader, conveys a distinguished performance. Clifton Guterman's portrayals as Young Lad and Ben Nicholson displays his range as he took on the task of playing diametrically opposed characters. Caitlyn Josephine Hargraves as Susan adds lightheartedness mixed with dignity to a character who is working her way through art school by moonlighting as a nude model on the side. Tess Malis Kincaid delivers a stellar performance as Helen Sutherland, a woman of means who sponsors aspiring artists. Finally, Sam R. Ross as art teacher Lyon offers a gratifying look at a man who wishes to help others as much as he wishes to further his career. Each of these performers creates a work of art that touches the heart of each audience member in individual and unique ways, which is also the central message of this extraordinary production.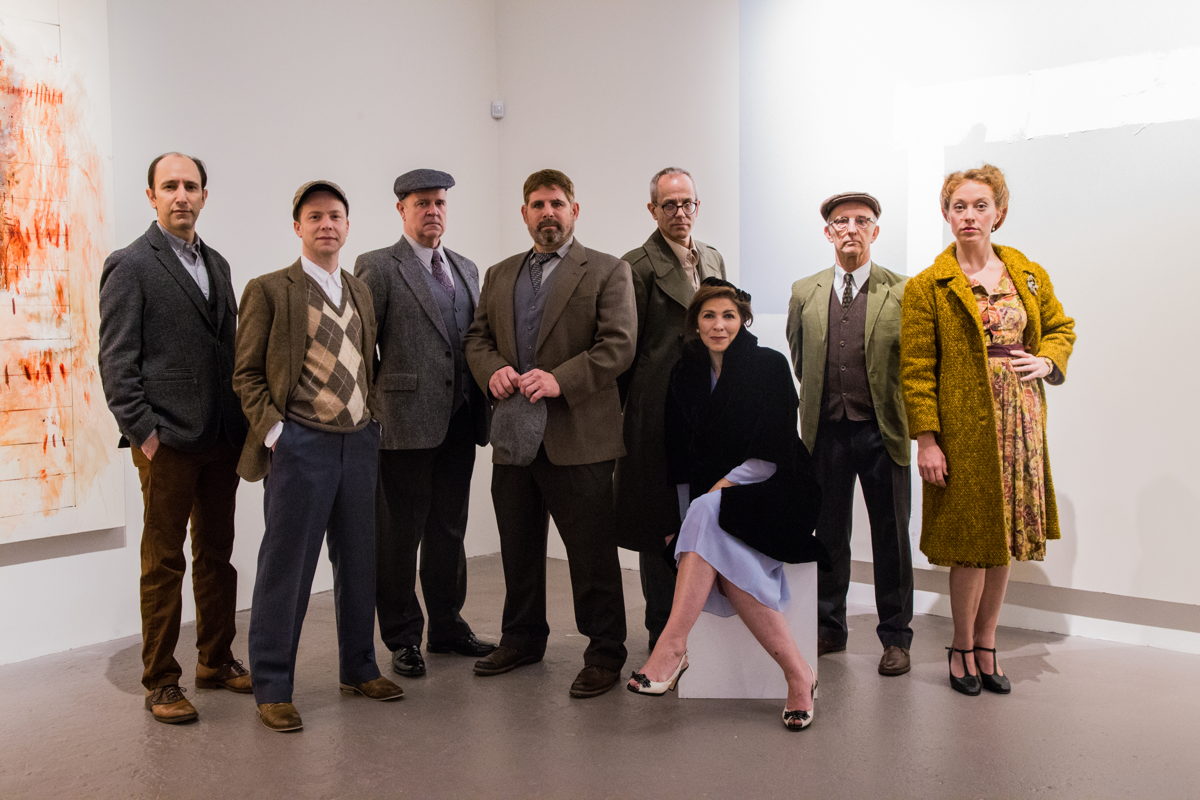 Overall, The Pitmen Painters is a superlative look at art, socioeconomic status, and life. As I unpacked the emotions and thoughts the play inspired by discussing them with my husband on the way home, we both contributed to the conversation from our own personal experiences–just as the painters learned to interpret art from their experience and emotions. Interestingly, sitting to the left of me in the theater was a young man who'd come to the play to fulfill a requirement for his art appreciation class. He told us this was the second play he'd ever been to. What a unique way to start your theater-going experience. Whether this is your second or one-hundred and second theater experience, this play is a Key-noteworthy must-see.
The Pitmen Painters runs at Theatrical Outfit from February 27th to March 24th.
Opening night: March 2, 2019 at 7:30pm
Regular performances: March 3-24, 2019
Added Wednesday performance: March 6, 2019 at 7:30pm
Added weekday matinee: March 7, 2019 at 11:00am
Pay What You Can industry performance: March 18, 2019 at 7:30pm
Added Saturday matinee: March 23, 2019 at 7:30pm
Theatrical Outfit's regular performances of The Pitmen Painters are Thursdays through Saturdays at 7:30PM and Sundays at 2:30PM. Tickets range from $18-$51 and may be purchased online at www.theatricaloutfit.org or by calling 678.528.1500. Group pricing is available. For info, email boxoffice@theatricaloutfit.org. Ticket prices are subject to availability. Fees and taxes apply. Order early for best pricing.