by Jody Key-Managing Editor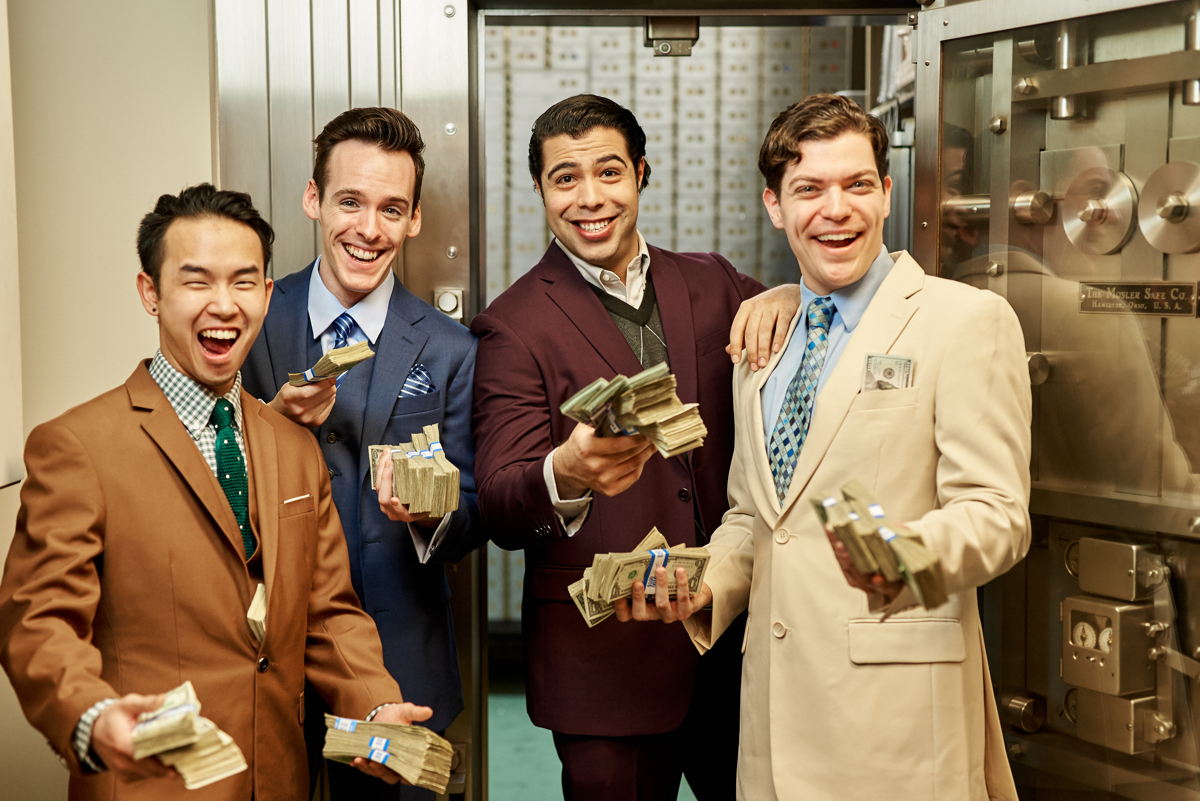 It's 1952 in New York City. Eleanor Roosevelt is president. A housewife kisses her husband and hands him his briefcase to go off to work. Another husband hands his wife her briefcase, kisses her and sends her on her way. In yet another household, a wife hands her wife a briefcase and wishes her a nice day. In still yet another household, a man hands his husband a briefcase and bids him farewell to work. Other blended couples bid each other farewell as they both head to work. Wait…..what? Sounds more like 2019 right? Well….such is the case in the opening sequence of Men with Money, a brand new World Premiere musical right here in Atlanta at the Aurora Theatre.
In the minds of writers Bill Nelson and Joseph Trefler, this is what 1952 New York looks like. A city of love, tolerance, and acceptance. Add in musical numbers that take us back to the era of Guys and Dolls and High Society and you have a wholesome, feel good musical that's a toe-tapping trip back to an alternate yesteryear.
Every musical needs a good story, and this one has it! This is a tale about 3 young roommates down on their luck looking for rich spouses who will help them enjoy a life of luxury. Louis and Sonny would like rich husbands, and Max is in the market for a rich wife.
Louis, the ambitious one of the group cooks up a scheme for each man to find the rich spouses they desire. Max, the clumsy and charming aspiring actor would like to find the wealthy woman of his dreams. Sweet and simple Sonny goes along with the scheme and finds out that Havana is not in Paris after all.
What follows is a delightful tale with a Broadway caliber cast and ensemble under the direction of Justin Anderson and with the quality we've been spoiled with in the ATL from the Aurora since 1996. This musical was born out of the Graduate Musical Theatre Writing Progam at New York University's Tisch School of the Arts, the same school that gave us Rachel Bloom of Crazy Ex Girlfriend. It was then developed in part at Musical Theatre Factory, followed by a concert of the music at Lincoln Center. Lucky for us, Aurora's directors, Ann Carol Pence and Anthony Rodriguez, saw its potential. The Aurora hosted a reading of the full show to a full house last September. Audience reaction was favorable, and from now until April 7th, we in the ATL can be treated to the World Premiere of a show which this humble reviewer hopes will go on to send it's message of love to audiences nationwide. This is the story of a world without homophobia and racism, while it's still separated by class socioeconomically, the characters learn life lessons and see that money doesn't always buy happiness.
The opening scene is picturesque with subtle undertones. The set is a beautiful caricature of 1950's New York City with a bouquet of colors. In contrast, the cast is dressed in black and white, beginning with the traditional marriage and transitioning into marriages of all forms. The show continues with extremely thought out details that culminate into a laugh-out-loud comedy with something for everyone. The music is catchy and toe-tapping, reminiscent of our favorite musicals from golden age of musicals, and yet, there's a modern edge that reminds us what our era is beginning to be.
The cast of this show is comprised of theater professionals from the New York area as well as some of our recent Atlanta favorites and the Aurora's stellar AppCo2019. Each performer brings the dynamic dancing and perfectly blended vocals we've come to expect from Aurora productions under the choreography of Ricardo Aponte and musical direction of Ann-Carol Pence. Several Key-noteworthy performances stand out in this production.
Sean Doherty is a NYC based actor who fills up the stage as Louis, the ambitious young man who cooks up the scheme for him and his buddies to marry rich. His impressive performance is the thread that sews the show together. We see him as the character that just doesn't get it, even though we admire his goal driven attitude.
Marcello Audino is Max–the clumsy actor and serendipitous inventor. Marcello is making his return to Aurora having previously played Davey in Newsies. I've said we should keep our eye on this young new talent, and I'm so pleased we get to see more of him in this show. His character is like-able and endearing, and we can't help but root for him as he stumbles along in his pursuit for love and money.
Another returner from Newsies is Adrianna Trachell as Thursday. Audiences loved her as Katherine Plumber, and as Thursday, she turns it up a notch or ten to fill the shoes of a confident, ambitious, and loud New York woman who knows what she wants and works hard to get it. Adrianna's range is evident in both her acting and vocals, and she delivers a strong performance.
Kenny Tran plays the sweet and naive Sonny. This part seems made for Tran as we can't help but fall in love with his boyish attitude. Sonny is so amiable and along for the ride. He's the epitome of pure love for love's sake. I especially enjoyed his performance in the number "Sonny's Song" where he mistakenly fantasizes Cuba as a city in France.
Daniel Wisniewski is fantastic as Hot Dog, whose name originates from one of his many jobs as a hot dog salesman. He fancies Louis even though he realizes Louis refuses to fall for him in his quest for a wealthy spouse. Hot Dog is a character who knows who he is and is comfortable in his own skin. Daniel's striking good looks, smooth vocals, and natural acting ability make audience members swoon.
Other top-notch performances are delivered by Candy McLellan as Musgten, Brian Robinson as Tycoon, Cecil Washington Jr as Marvatech, Jimi Kocina as Frenchy, and ensemble members Christopher De'Angelo, Olivia Zimmerman, Peyton McDaniel, and Chloe Cordle. The rest of the ensemble does an amazing job.
All in all, Men with Money is a delightful big bang for your buck, and Aurora has hit pay dirt with this gem of a musical. The show plays until April 7th, and tickets can be purchased by calling the box office at 678-226-6222 or visiting their website at https://www.auroratheatre.com/productions-and-programs/view/men-with-money