Biographical Broadway hit to play downtown Lawrenceville, March 5 – April 19, 2020
Speakeysie News Desk — Sunday, May 5, 2019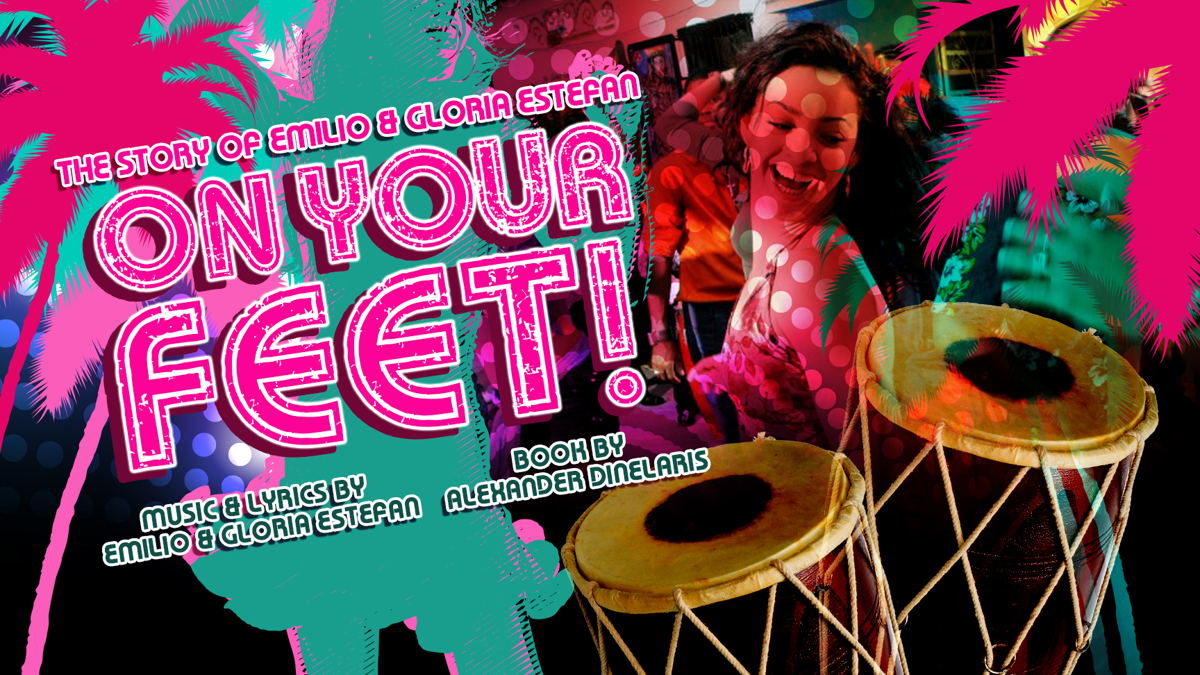 Get ready to feel the rhythm! Aurora Theatre is once again debuting a feel-good Broadway hit for regional audiences during its 24th Season! The fastest-growing professional theater in the state of Georgia today unveiled plans to produce On Your Feet!, the recent Broadway sensation based on the lives and music of 26-time Grammy Award-winning husband-and-wife team Gloria and Emilio Estefan. With music and lyrics by Gloria and Emilio Estefan and book by Alexander Dinelaris, the show will run at Aurora Theatre from March 5 – April 19, 2020 and will be the Southeastern premiere of the smash hit.
From humble beginnings in Havana to international superstardom, Gloria and Emilio Estefan changed the music industry forever. This feel-good musical tells the inspiring true story of two people whose belief in their art and determination created a new crossover genre of music. This Broadway sensation is a dance party that features all of the well-known, favorite songs including "Rhythm is Gonna Get You," "1-2-3," "Conga," "Turn the Beat Around" and many more!
"As an organization already deeply involved with the Latinx community, there is no better regional theater to bring this recent Broadway hit that celebrates Gloria and Emilio Estefan – a team that changed the music business in America – to the stage," said Anthony Rodriguez, Co-Founder and Producing Artistic Director. "When I visited Chile in early 2017 for the Teatro a Mil International Theatre Festival, I was struck by the connection of local audiences with art – the energy was palpable. In a public park, children were playing music, walking on stilts, dancing and drawing on the sidewalks and I know we can create that passion here. Shows like On Your Feet! introduce new audiences to our work and the idea that – no matter who you are – we have art for you without barriers in a soon-to-be new, expanded space in the heart of downtown Lawrenceville."
"Leading the band for In The Heights was one of the best experiences of my career and I can't wait to share the Latin rhythms of the Estefans with the Atlanta community! As always, Aurora audiences can expect the same beautiful storytelling, sizzling choreography, gorgeous costumes, sets and lights that we always promise to provide. As a powerhouse couple ourselves," jokes Ann-Carol Pence, Co-Founder and Associate Producer, "Anthony and I look for shows that celebrate how partnership and love can work together to create success. We are sure to have everyone in Atlanta Conga-ing in the aisles!"
In addition to the Broadway hit, Aurora Theatre's 2019-20 Season will showcase a Stephen Schwartz musical, Horizon Theatre co-production and more:
Children of Eden
July 18 – September 1, 2019
Book by John Caird
Music and Lyrics by Stephen Schwartz
Based on a concept by Charles Lisanby
Aurora Theatre is going Old Testament-style with its season opening musical, Children of Eden!With music from the great American composer of Wicked, Godspell and Pippin comes the epic masterpiece that sets the Book of Genesis soaring. The musical encompasses not only the story of creation and the great flood, but also examines the complex love between parents and children. Audiences won't want to miss this tale of love, family and the power of forgiveness!
The Roommate
September 19 – October 20, 2019
By Jen Silverman
Fifty-something year-old Sharon is a recently divorced busybody. Financially, she needs a roommate to share her expenses. Emotionally, she needs a roommate to break the isolation of her Iowa home. Enter Robyn, also in her mid-fifties, who is looking for a calm, quiet place to hide from her past and start over. As Sharon begins to pick at Robyn's secrets, things spiral out of control like a cross between "Thelma and Louise" and "Breaking Bad."
Christmas Canteen 2019
November 14 – December 23, 2019
Gwinnett's longest-running theatrical holiday tradition, Christmas Canteen 2019, returns for a 24th smash year! This stunning musical revue makes "The Most Wonderful Time of the Year" even more wonderful. Brimming with songs, comic sketches, trips down memory lane and an explosion of Christmas magic, it's the holiday show with something for everyone!
The Curious Incident of the Dog in the Night-Time
January 9 – February 9, 2020
By Simon Stephens
Based on the novel by Mark Haddon
A co-production between Aurora Theatre and Horizon Theatre
Winner of seven 2013 Olivier Awards and five 2015 Tony Awards, including Best Play, this thrilling production has been enjoyed by over 3 million people worldwide. Christopher John Francis Boone, a 15-year-old boy on the spectrum likes math, outer space and looking after his pet rat Toby. Wrongfully accused of murdering his neighbor's dog, Christopher's investigation to find the real culprit uncovers a thrilling adventure that turns his whole world upside-down.
Erma Bombeck: At Wit's End
May 7 – June 7, 2020
By Allison Engel and Margaret Engel
"If life is a bowl of cherries, what am I doing in the pits?" is one of the many musings from Erma Bombeck, the legendary humorist who gave voice to the frustrations of a generation of women in her syndicated newspaper column, "At Wit's End." Atlanta favorite Lane Carlock brings to life the humor and unapologetic truth of a mother, housewife and philosopher in this charming one-woman show that will return to Aurora on the mainstage, due to popular demand!
Aurora Theatre's Season 24 lineup includes:
| | |
| --- | --- |
| Children of Eden | July 18 – September 1, 2019 |
| The Roommate | September 19 – October 20, 2019 |
| Christmas Canteen 2019 | November 14 – December 23, 2019 |
| The Curious Incident of the Dog in the Night-Time | January 9 – February 9, 2020 |
| On Your Feet! | March 5 – April 19, 2020 |
| Erma Bombeck: At Wit's End | May 7 – June 7, 2020 |
Single ticket prices vary by performance. Season subscribers enjoy rewards such as preferred seating, exchange privileges, guest passes and much more. Season ticket packages start as low as $96. Loyal patrons can become an Aurora Theatre premium Star Pass member by adding a tax-deductible contribution of $70 or more to each season ticket for even more added benefits at auroratheatre.com/subscriptions. Single-show tickets go on sale to the public starting June 3, 2019. For more information please visit auroratheatre.com, or call the Box Office at 678.226.6222.