by Jody Key — Managing Editor : Photo Credit Casey Gardner– June 8, 2019
If you're looking for a fun, feel-good show with a brassy N'awlins flavor, great vocals, and delightful dancing, look to further than Theatrical Outfit as they close their season with 5 GUYS NAMED MOE, which opened on May 29th to an enthusiastic audience.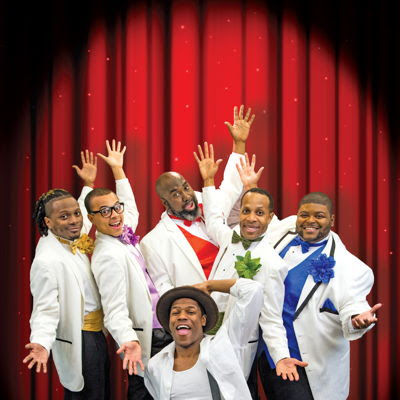 This show is a toe tapping, feel-good story about a young man named Nomax (Sterling McClary), who's down on his lovesick luck. When he turns on his radio, he is visited by 5 Moes:  Big Moe (Eric Moore), Four-Eyed Moe (Omar Madden), Eat Moe (Brandin Jay and understudy Trevor Rayshay Perry), No Moe (Eugene H. Russell IV), and Little Moe (Lawrence Flowers). Together, the quintet leads Nomax through the music of songwriter and saxophonist Louis Jordan whose new take on Jazz was the precursor to rock and roll in the 1950s. These actors complemented by an onstage orchestra enthralled the audience and immersed us in the show, inviting us to sing "Push Ka Pi Shi Pie" and from a conga line on stag to close Act I, and later inviting four ladies onto the stage in "Look Out Sister" in Act II.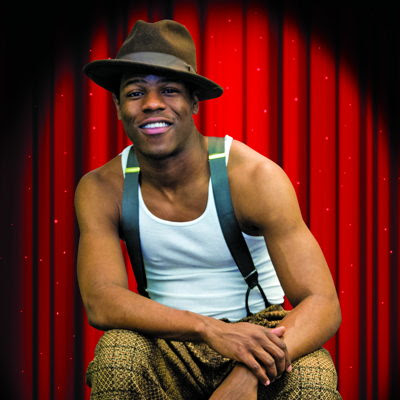 Each of the Moes takes their turn convincing Nomax to straighten up and turn around so he can keep his lady. Sterling McClary as Nomax delivers an incredible performance both physically and vocally. It's especially intriguing how he can spend the majority of the show imitating a drunken stupor and dance in such a manner, yet his dancing is as beautiful as mesmerizing as it was in TARZAN and NEWSIES. I've enjoyed seeing Sterling in various roles this past year and was delighted to seem him take the lead.
Eric Moore was a personal favorite Moe as Big Moe. I've seen him in FULL MONTY and JESUS CHRIST SUPERSTAR, and love his rich full voice. He was especially wonderful in "What's the Use in Getting Sober When You're Gonna Get Drunk Again".
Omar Madden as Four Eyed Moe dons my favorite color (purple), and leads the audience in "Push Ka Pi Shi Pie" all the way to intermission, where I heard several patrons continuing to sing the catchy tune in the lobby. His dancing abilities are par with Sterling's and together they lit up the stage several times matching step for step. He was also hilarious in "Ain't Nobody Here but us Chickens", donning a bonnet and singing in a comical falsetto.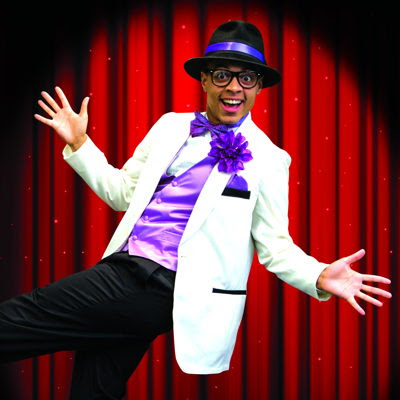 Lawrence Flowers as Little Moe proves that big things come in small packages and wows the audience with vocals, dance moves, and winning smile in "I Like 'em Fat Like That" and "Choo Choo Ch'Boogie".
Eugene H. Russell IV plays NO Moe, and his deep, smooth, and rich vocals are reminiscent of Lou Rawls. He's the voice Nomax hears as the announcer on the radio, and charms the ladies in "Look Out Sister".
Rounding out this cast the night I attended was Trevor Rayshay Perry as Big Moe, understudy to Brandin Jay. Perry captures the essence of Big Moe in "Life is so Peculiar". Brandin, despite an injury, still joins the cast and brings down the house with "Don't let the Sun Catch you Crying".
FIVE GUYS NAMED MOE is a thoroughly enjoyable, Key-noteworthy recommended musical which runs until June 30th at Theatrical Outfit. Tickets can be purchased online at www.TheatricalOutfit.org or by contacting the box office at 678.528.1500